Performance Lawn and Landscape offers a variety of lawn care services, including mowing, edging, trimming and blowing. Highly trained staff using top of the line equipment guarantee a job that will enhance your property.
Let us use our knowledge of lawn grasses to help you make your neighbors green with envy.
Lawn Mowing & Lawn Care Service
Some of the grasses are coarser than the others and require the blade to be especially sharp or the lawn will have a ragged look when finished.
Cool & Warm Season Grasses
Cool season grasses grow the fastest in the spring and early summer and early fall in preparation for winter dormancy. The warmer season grasses start very early in the spring and continue through the winter in warmer climates and with regular maintenance can result in year round care.
Mowing Heights
Mowing heights range from 1/4″ to 4″ depending upon the species. Cool season grasses that aren't receiving enough water need to be a little longer to withstand the stress of the heat and evaporation of the sun and mowing to close can kill these grasses in this situation.
Mowing is the most often incorrectly performed part of lawn maintenance. Each grass type has a height range that it prefers to be mowed at, if you will cut the grass at that height the grass will be healthier, look better and most importantly last through the season without dying out from lack of water. The depth of the root system is in direct correlation to the height you mow at. So, the higher you mow the deeper the roots, the more water the grass can get and the less you have to water.
Two Types of Grasses
In general, two types of grasses are what we deal with. Cool Season grasses: Fescue, Bluegrass, Ryegrass. These are the most common in the Southeast. These grasses like to be mowed at a range of 2.5″ to 3.5″ high. We to mow Fescue at least 3″ high, it makes the lawn healthier and look better. Bluegrass is the most tolerant to lower mowing, but still I wouldn't take it lower than 2.5″.
The other type of grass is Warm Season grasses: Bermuda, Zoysia, Centipede. These grasses will tolerate as low a cutting as most home owners mowers will cut. Golf courses use a lot of Bermuda, and Zoysia and they routinely cut it as low as .5″ A typical home lawn will look nice at 1″ providing you have a smooth grade.
Ask About Our 1 Year Service Agreement
Leaf Removal & Lawn Care Service
Falling leaves are one of nature's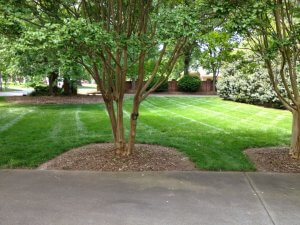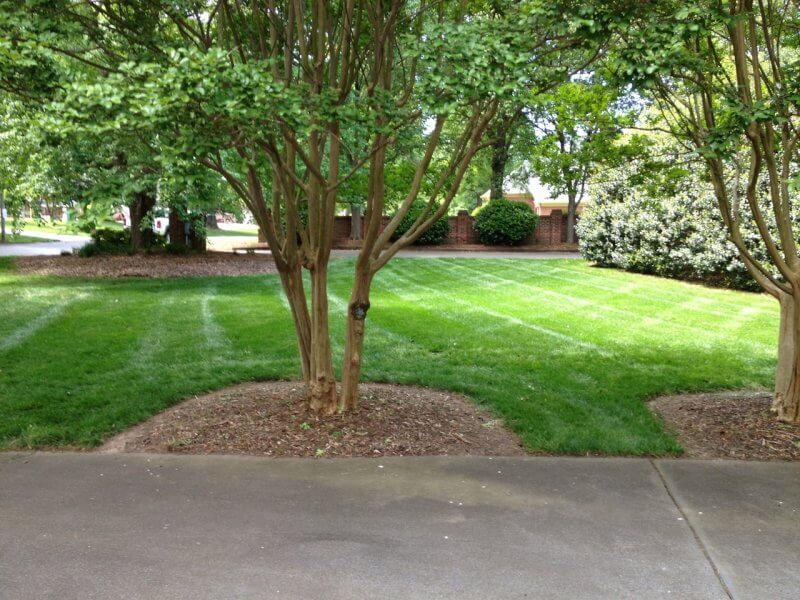 marvels, and their recycling into the earth is part of a natural cycle. But most people don't want their lawns looking like a nature preserve. Leaves can smother grasses and encourage diseases by blocking sunlight and keeping moisture trapped beneath them. Leaves can also prevent grass seeds from making good contact with the soil.
Performance Lawn and Landscape has top of the line leaf removal equipment that will keep your lawn neater and healthier, including a very large trailer-mounted leaf vacuuming rig that's much more sophisticated than traditional mowing-and-bagging operations.