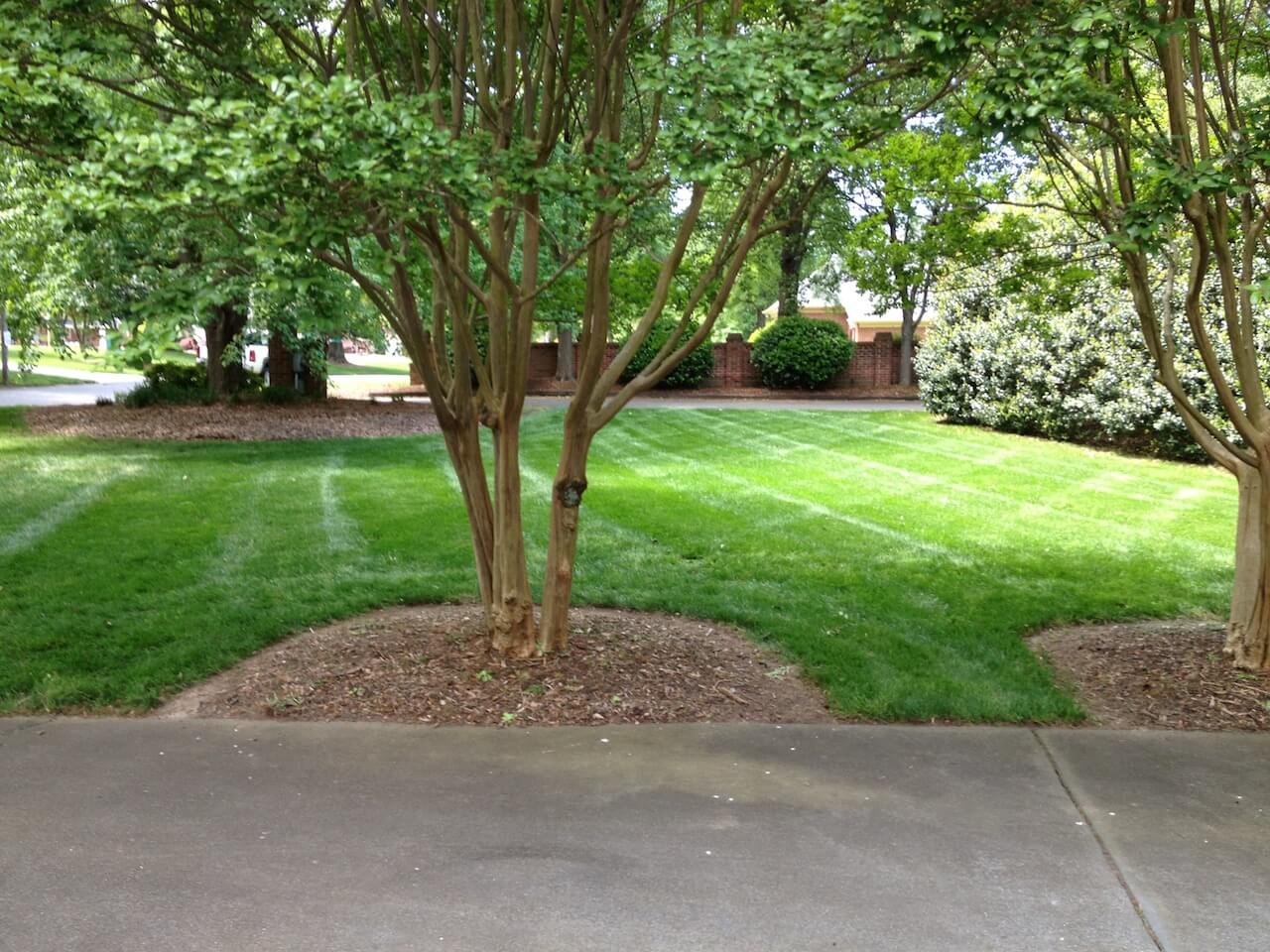 Have you been searching for the best professional lawn care team in the Mineral Springs NC area? If so, Performance Lawn & Landscape is your answer! As the #1 landscaping company in the area, we provide lawn care services, landscape maintenance, landscaping, hardscapes, and commercial services. No matter what landscaping services you may need, we can get the job done. Our commitment is to provide you with the best products and services available. We achieve this by ensure that our wide variety of services will always be completed by a licensed and insured professional that is highly trained & knowledgeable in the field.
Lawn Care Mineral Springs NC | Our Services
Your landscape and outdoor living space is an investment that requires proper, & regular, care. Our landscaping team provides your space with the care it needs, which will help the appearance and value last longer. You can rely on our specialist to go the extra mile to provide you with the assistance you need, and answer any of the questions you may have regarding your landscape. Our specialty services include lawn care, landscape maintenance, landscape installation, hardscapes, & commercial services. But, if you have a custom project in mind, we are able to help with that also. Once you receive your quote and decide to work with our professionals, we strive to give you the best experience possible. We are thorough when it comes to explaining your project, complete things in a timely manner, and keep you up to date during all of your regular maintenance checks. You can rest easy knowing that we take care of everything for your lawn and outdoor living space. What are you waiting for? Call the professionals at Performance Lawn and Landscape today to get started!
Lawn Care Mineral Springs NC
Mineral Springs is a neighborhood found in Charlotte, North Carolina. Over 9,000 people are living in Mineral Springs. Most of them are families and young professionals. Mineral Springs offers an urban-suburban mix feel, which means that the residents here are renting their homes. Nonetheless, residents enjoy the wonderful neighborhood of Mineral Springs and the lively commercial establishments and market places. Plus, the vicinity offers single-family dwellings with lawns where children enjoy their playtime every winter, spring, summer, and fall. That's why every homeowner makes sure that their lawns are well-maintained and nourished not only for the children but also for the whole family.
Performance Lawn and Landscape is your best partner in lawn care Mineral Springs, NC. Our landscaper team specializes in quality landscape maintenance for both commercial and residential properties, and we offer services such as:
Lawn Maintenance Service (Mow, Trim, Leaf removal, Edge, Blow) – To maintain your lawn, we mow it and remove the leaves during fall. For beautification, we install hardscapes and sprinkler systems. Our goal is to develop your lawn over time so that it can survive the climate every season.
Landscape & Lawn Maintenance (Weed Control, Fertilization, Seeding, Pruning, Irrigation, Aeration, and more) – You can ensure that we'll give time on your property to maintain it and increase its value. Plus, weuse herbicides that are safe for the entire family.
Landscape Design (Planting area preparation, border and edging, and more) – We can edge your borders, planting areas, and install sod for newly constructed areas.
Hardscapes (Arbors, Gazebos, Patios, Walkways, Lighting, and more) – Our landscape design team create and customize a specific commercial or residential landscape project that you need. We also offer a free consultation.
Commercial Lawn Maintenance (Bldg maintenance, Onsite representation, and Sweeping services) – We perform sod installations, create a commercial outdoor landscape where employees can take a break, rest,and relax.
Commercial Landscaper Mineral Springs NC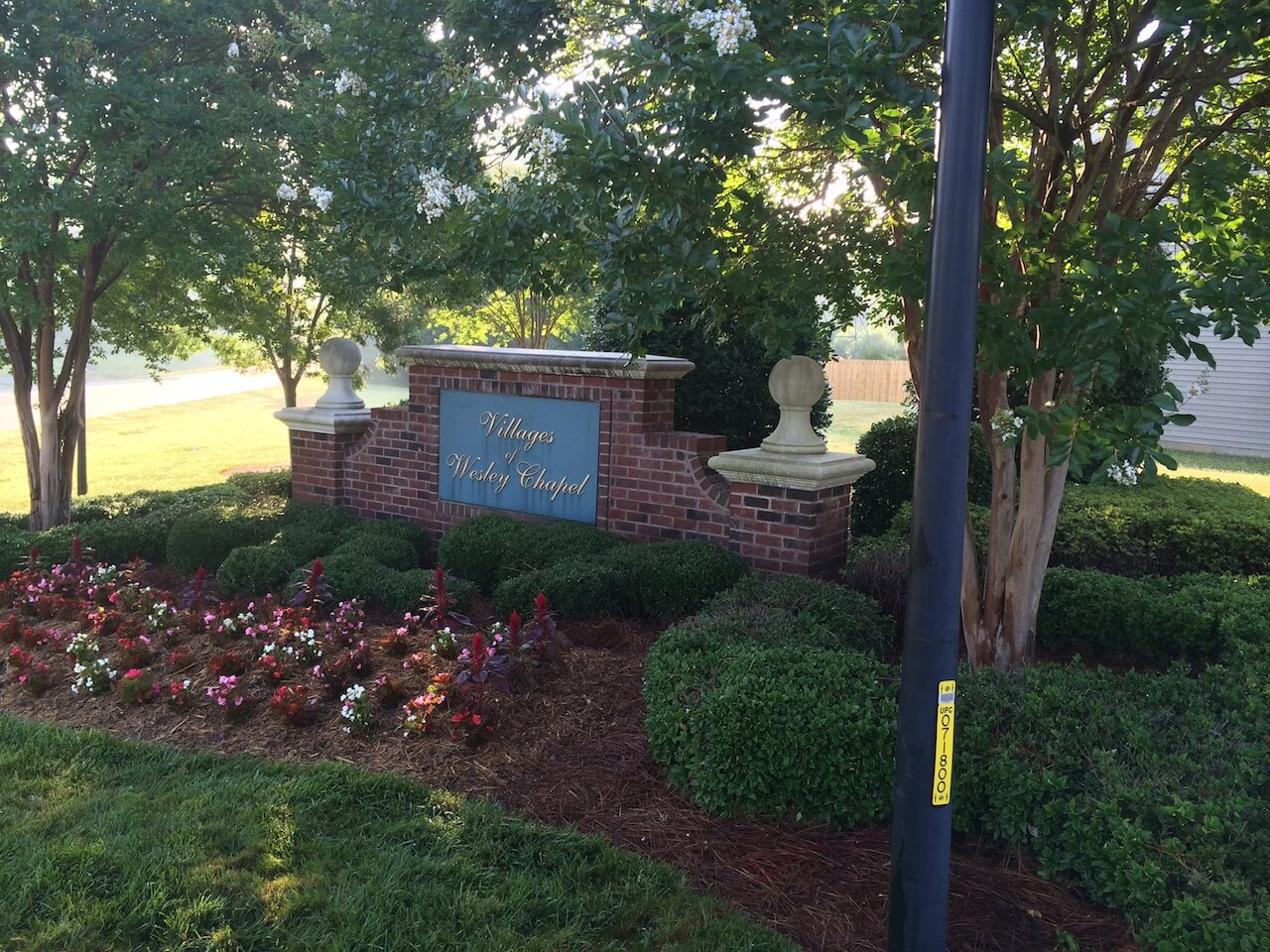 Are you fond of going to commercial areas? Do you love hanging out with your family or friends at parks, playgrounds, shopping centers, local marketplaces, or bazaars? Bet that you always take photos with them, especially if the place looks very instagrammable and picture-perfect. One of the reasons people love going to commercial spaces is because it offers fresh and breathtaking environment. There is no unworthy spot left behind from lawns, yards, gardens, and even green parking lots.
This is also true to offices and working places. Most of the employees eat their snacks, drink their coffees, and chat a lot in their pocket gardens or rooftop greeneries. Greens give a refreshing feeling from a hard day's work. Plus, according to experts, greeneries are healthy for the eyes. So, if you are also a working person and you always see yourself in front of your desktop computer or laptop, look at beautiful green plants and trees in your office lawns or garden, and let your eyes relax for about 15 to 30 minutes.
When tending your commercial lawns, yards, gardens, and green parking spaces, Performance Lawn and Landscape is always here to serve you! We are a team of professional commercial landscapers who still consider the best for our dear clients!
Residential Lawn Care Mineral Springs NC
Are you an outdoor person? Do you see yourself hanging out mostly in your lawn or garden? If yes, then that's great, especially if you stay surrounded by greens every morning, when the sunlight is still healthy to touch our skin. Maintaining a beautiful lawn do not only give happiness and relaxation to the homeowners but also to their neighbors and the whole community too. It is nice to see how children play cheerfully without worrying about getting bitten by harmful insects and getting ill because of dirty-neglected yards.
Performance Lawn and Landscape also put these considerations as our top priority. We love to see families enjoying their lawns after we mow, trim, edge, blow and keep their yards clean and free from infecting pests, molds, fungi, and diseases. Residential lawn care is not only our job. We also consider the welfare and wellness of our clients. That's why we cater only to the best treatments that are safe, accredited, and environmental-friendly.
You can ensure that we are working with a group of professional landscapers who plans the steps in making your lawn a healthy space in your home very carefully. If you need a consultation, you can always talk to our staff, and they will help you with your lawn care needs.
Lawn Mowing & Maintenance
Maintaining lawns is like maintaining your good health. Aside from it adds beauty and value to your property, it also provides the whole family with a great surrounding free from harmful elements that may cause them various diseases. A clean and well-maintained lawn or yard indeed makes the homeowners proud and joyful. Performance Lawn and Landscape understands your lawn care needs. We are your partner in maintaining your beautiful lawn, keeping it away from weeds, invading pests, fungi, and even molds. Growing beautiful, well-trimmed, and lush green grass is one of our expertise. Performance Lawn and Landscape aims to turn your lawns into a wondrous place where children are allowed to feel the grass on their skin, make it a perfect spot for family relaxation and recreation. We also offer other various lawn care services like edging, trimming, and blowing.
Leaf Removal, Aeration & More!
Grow your lawn with lush green grass and keep every root in your yard healthy and strong with leaf removal and aeration service. Performance Lawn and Landscape is here to do the job for you!
Contact Us Today
Performance Lawn and Landscape is looking forward to rendering lawn service for you. We are glad to entertain your questions and help you with your lawn care needs. Reach us today by dialing 704-363-1499. You can also check our website at https://performancelawncare.com/contact/ and fill out our contact form. We can't wait to work with you and beautify your lawn!
About Mineral Springs, NC
With a population right under 3,000, and wide-open spaces, you can count on Mineral Springs to provide a small-town atmosphere. Most of the residents here live on farmland and keep horses, which helps maintain the rural community. The last Saturday of every April, Mineral Springs holds the Queen's Cup. This is the most anticipated social and sporting even on the Southeast calendar for horse races. Sports, fashion, and tailgate extravaganza is what the Queen's Cup is all about.
Weddington, NC is an 8.5 mile drive from Performance Lawn and Landscape via S Rocky River Rd & Crow Rd.